OverDrive Read
allows you to take notes and highlight sections of text in an eBook. That way, you can go back to your favorite sections or jot down your thoughts on a particularly moving passage. Many teachers require students to journal as they read and this is a great way to be able to do this digitally.
These notes are now saved in a user's history and can be found by clicking the Account link when you are logged in to the Digital Library.
(Look for the post next week on how to export these notes to Google Drive! Oh My!)
Here's how it works:
Click or tap and hold a word until the highlighter pops up. Drag the cursor to select more than just one word.
Click or tap Define to look up the highlighted word in the dictionary. Click or tap Highlight to see highlighter and note-taking options. Click or tapSearch to find other places where the word (or phrase) appears in the book.

There are three color choices for the highlighter. Select the one you like best. If you don't want to change your highlighter color or add a note, click or tap anywhere outside of the highlighter options. You can also select the X on your chosen color to cancel the highlight.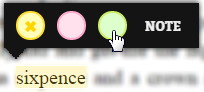 To take a note, click or tap Note.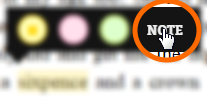 Bookmarks, highlighted passages, and notes are saved in the Marks section of the Read menu. From there, you can select a bookmark, highlight, or note to open that section of the eBook.
Note: To open the menu on a mobile device, tap the middle of the screen first, then tap the menu icon.